KMSWG Inks MoU with Registrar of Political Parties for Information Sharing
The Kenya Media Sector Working Group has signed a Memorandum of Understanding with the Registrar of Political Parties for enhanced strategic partnership and collaboration
The MoU was signed by the Kenya Union of Journalists Secretary General Mr Eric Oduor, Kenya Editors Guild President Mr Churchill Otieno,   and Registrar of Political Parties Anne Nderitu on Thursday.
It was witnessed by the Chairman of the Kenya Correspondents Association (KCA) Mr William Oloo Janak,  chairman Political Journalists Association of Kenya (PJAK) Mr Kennedy Murithi. 
The ceremony was graced by representatives of other associations that form the KMSWG -Kenya Parliamentary Journalists Association (KPJA), Association of Devolution Journalists (ADJ), and Association of Professional Broadcasters (APB) among others.
"This MoU will act as a common working arrangement among partners in demystifying information on various electoral processes while providing timely clarity on topical issues," noted the Registrar of Parties, Ann Nderitu.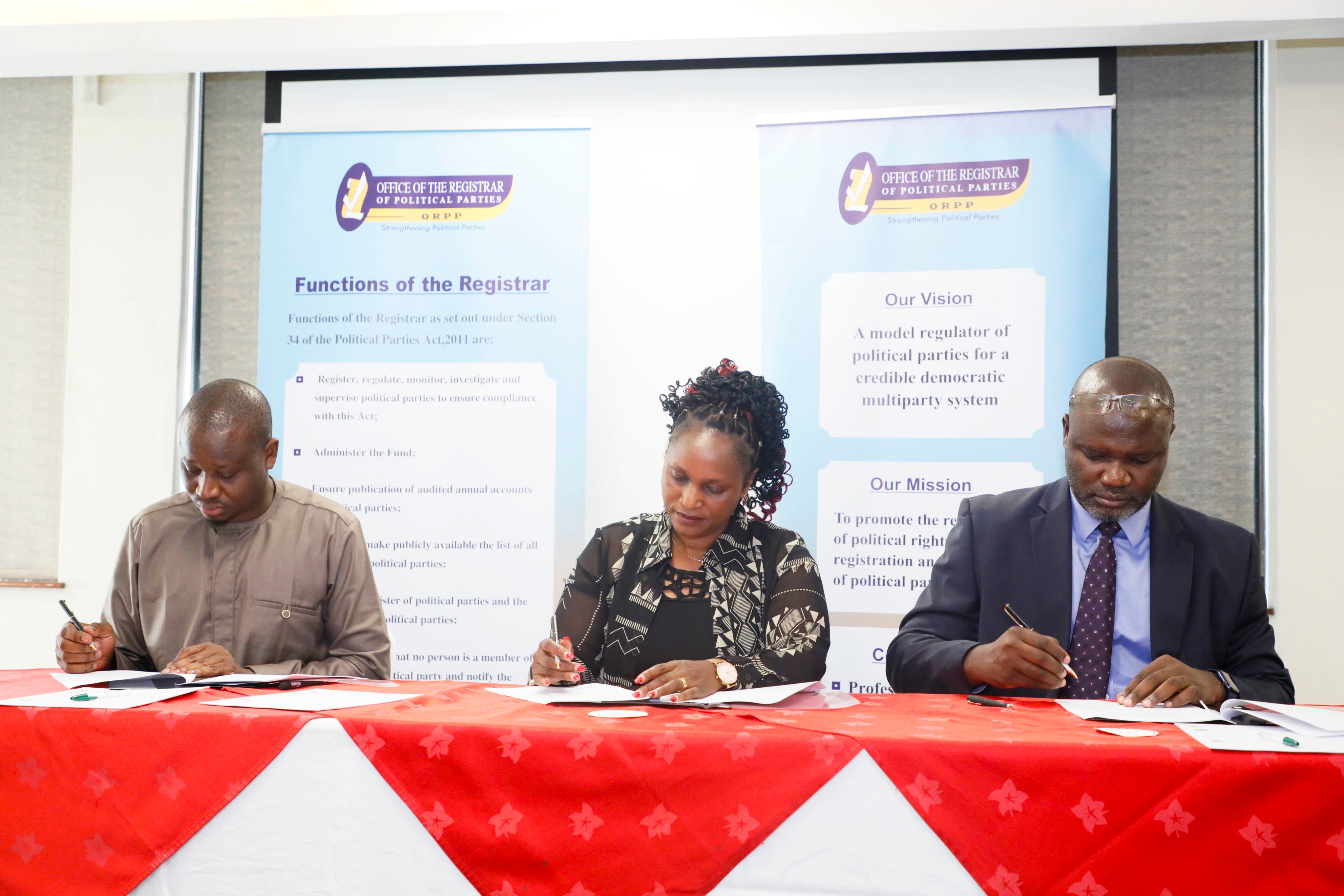 The MoU aims at the exchange of programmes, and training of journalists.
"The purpose of this Memorandum of Understanding is to establish common ground on priority areas of cooperation.

Highlight the areas ahead of, during and after, the 2022 elections with the objective to enhance the delivery of critical, reliable, credible, verifiable ORPP role before, during and after the General Elections to the citizens of Kenya in a timely fashion through the news media while observing the tenets of independent journalism."
@IEBCKenya, Kenya Editors Guild (KEG), Kenya Union of Journalists (KUJ) sign a Memorandum of Understanding having agreed to work together to enhance factual reporting on electoral process and make democracy grow in Kenya #GE2022 pic.twitter.com/bGtm66fOFu

— IEBC (@IEBCKenya) March 4, 2022
The Media Coalition in March 2022, signed a similar MoU with the Independent Electoral and Boundaries Commission (IEBC). 
The purpose of the MoU includes capacity building; enhancing the delivery of factual, credible and verifiable information to the public; promoting access to electoral activities including tallying centres and polling stations; providing resource persons on electoral laws, regulations and processes among others.
Subsequently, the IEBC will also provide a portal for the media to access election results in real-time to enhance transparency, and accountability, and prevent disinformation and misinformation.